»Stiff - The Story Of A Record Label«

This is the bible in the community of Stiff Collectors. It was written back in 1982, so obviously a lot of new information has turned up since then. But it still is a fantastic book!

Written by Bert Muirhead who also runs the record shop Hot Wax in Edinburgh.

»The Stiff Jigsaw«

This is a 100 piece jigsaw with images of Ian Dury, Madness, Lew Lewis, Lene Lovich, Wreckless Eric and others. A pretty unexpected promo item from Stiff Records. And, of course, the jigsaw doesn't match the picture on the box.
»Be Stiff Roadmap '78«

Promotional map for the Be Stiff UK Tour in 1978.
»Pointed Sticks promo pencil«

A sharpened pencil can be a pointed stick...

»Jona Lewie pocket scissors«

Promoting Buy 139, »I Think I'll Get My Haircut«.

»The Stiff CD-Box«

A perfect start for the beginner. A nicely packed 4 CD-box with a good mix of music, but as always when it comes to boxes; there's always a couple of great songs missing.

Badges

Nobody knows how many
different kinds there are...
Below are some of mine:

Madness »Our House« promotional doormat

Extremely hard to get item. The few still remaining are not used for cleaning dirty shoes. Mine is in the bedroom...

Stiff Records
promotional dart flights

Extremely hard to find. Besides the cool sheep logo they have the slogan We Lead Where Others Follow But Can't Keep Up. Great item!!!

»No Sleep Till Canvey Island«
Book by Will Birch

Great book by Will Birch, front man, songwriter and drummer of Kursaal Flyers and The Records. Gives great insight in the pub rock revolution and a lot of stories from the inside of what should turn out to be Stiff Records. Thanks for the signed copy, Will!

The definitive account of a crucial seven-year period in British rock!

»Illuminating... what sustains the book is Will Birch's extraordinary attention to detail, crucial observations only available to someone who was there at the time.« - Mojo
Promotional posters

Many different variations, the one on the left designed by the great Chris Morton in 1976. Promoting the first eight Buy-singles.

The right one is from 1978 and pushing Stiffs Live (Get 1) and Ian Dury's »New Boots And Panties« (Seez 4).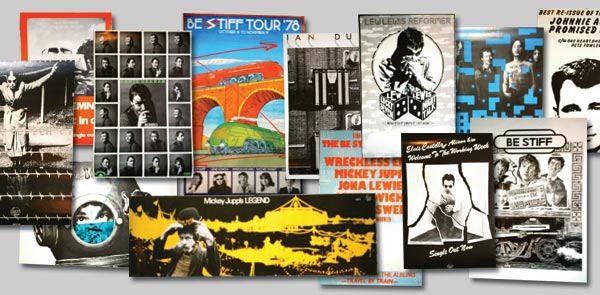 Damned singles box.

Now; how nice is this? The five Stiff singles by The Damned re-released on CD in their original artwork. All packed in a box. Simply beautiful!
Sold for £14. Go get it now, while it's still in stock at:
http://www.theturkeyzone.com/
Promotional 1980 calender.

Very nice 12" two-sided calender, with one classic slogan for each month.

Promotional 1976 wrist watch.

Very cool promotional wrist watch. Record label (buy 1) rotates around centre like a second hand. Cool indeed. Took me quite a while to find...
Belle Stars puzzle.

An exciting piece of plastic promoting Miranda and the other girls. Fun for all ages.


Feelies coaster.

American promo for »Crazy Rhythms«.

The Pogues
promotional coasters.

Could there be a better slogan for The Pogues music? Lend me ten pounds and I'll buy you a drink. Brilliant!


Wreckless Eric
promotional brick.

Promoting Eric's album »Big Smash«.

The Rumour promotional address book.

»My Little Red Book« (Buy 81) was plugged with this little nice item.
Promotional docecagon.

Stiff moved their offices from Alexander St to Woodfield Road, due to early massive success of their various artists. They had a very limited amount made up of this nifty cardboard docecagon--a 12-sided geometric 3-dimensional polygon. The twelve surfaces feature a map of their new location, one of the Stiff Logos, their new address, and photos with job descriptions of everyone in the office, from owner, Dave Robinson, to General Managers, Paul Conroy and Alan Cowderoy, plus Press Officer, Andy Murrary, all the secretaries, and the irrepressible Production Controller, Nigel Dick.
Stiff keychain.

Nice one from the late Stiff era.


Belle Star.

Cool sheriff's star.